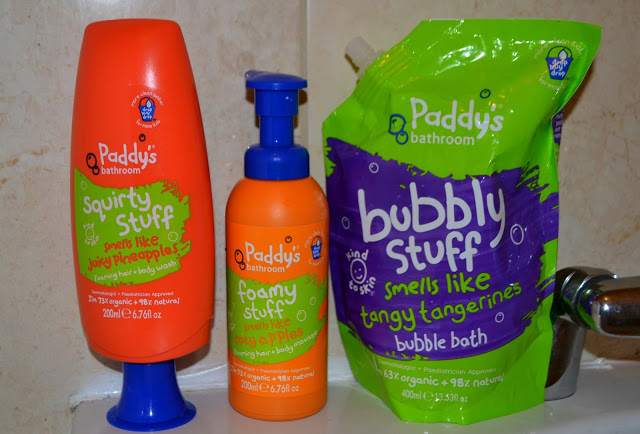 We were recently sent some products from the range to try out during the little mans favourite time of the day – bathtime!
Bubbly Stuff – Smells like Tangy Tangerines – £5.50
The bubbly stuff smells delicious. It's a light fruity scent which doesn't smell synthetic. It creates a bubbly lather when poured under the running tap. We loved the product but I found the packaging a little difficult to use. As the container isn't solid, it doesn't stand on the side of the bath without falling over and the lid is very easily removed by little fingers!
Squirty Stuff – Juicy Pineapples – £4.49
The Squirty stuff is fab, not only does it smell sweet and delicious it is perfect all over washing in the bath and shower. It can be used on skin or hair and washes of the little mans daily dirt easily.


Foamy Stuff – Rosy Apples – £4.49
The Foamy stuff is fab, not only does it smell sweet and delicious it is perfect for quick hand washes after playing in the garden or before meals.
The products all come in bright, eyecatching containers which look perfect in a family bathroom. Each of the products has a gorgeous fruity scent which makes them a pleasure to use.
I love the fact the products are all free from nasty additives and things bad for young skin, which reassures me as a parent and makes me a happy Mammy.
The only thing I wasn't keen on was the containers for the Bubbly Stuff and the Squirty Stuff. They were both quite awkward to open and close which isn't ideal when you're juggling a little person in the bath.
*We were sent the items to review. Opinions are my own*