I have a nightmare with the skin on my hands. I have contact dermatitis on my hands which is triggered by a change in products, heavily perfumed laundry products and certain brands of baby wipes. It's awful, my hands become really sore, split and bleed and it takes days for them to start to re-heal. The worst part is, I can use something for a while with no issue, and then all of a sudden my skin hates it and I get a flare up.
I was recently asked if I'd like to try out Simply Pure Allergen and Fragrance Free Non-Bio and Simply Sensitive Non-Bio laundry tabs from Simply range. The products are hypoallergenic, fragrance free, phosphate free and are fully dermatologically tested, which means they should be ideal for my ridiculous skin.
Simply don't use perfumes to reflect how clean laundry is, but focus on the actual cleaning of the clothes. Their detergent is environmentally friendly, phosphate free and all the ingredients are 100% biodegradable, and they're all made in West Yorkshire.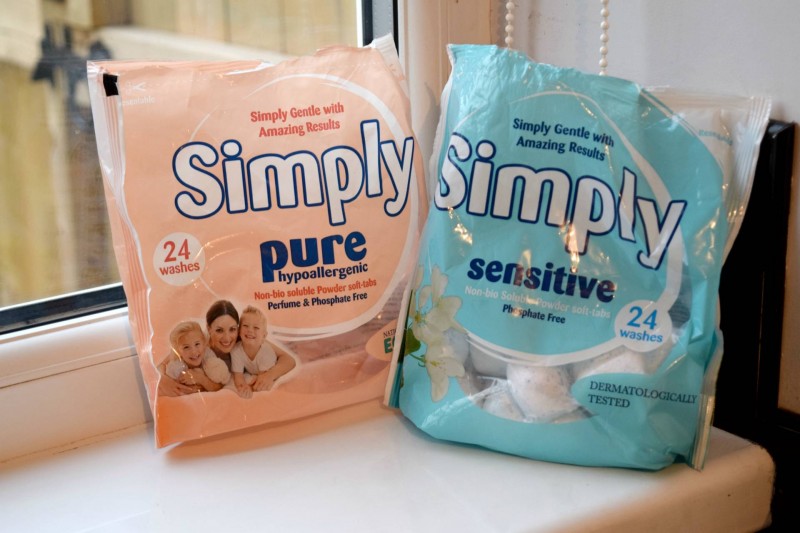 I was sent two packs to try out, each containing 24 washes. The little pods of powder are ready to pop straight in the drawer, there's no mess and they're really easy to use. I like how neat and tidy their packaging is. They leave no residue on the clothes or inside the machine but some of the tablets don't fully dissolve in the detergent drawer in my washing machine, I'm not sure whether that's from the water or the tablets but just remember to regularly clean out your washing machine drawer.
Simply Pure Allergen and Fragrance Free Non-Bio are non-bio laundry tabs that are soluable and are designed to giveoptimum results in all water conditions. Simply detergents work well with modern washing machine technology which often uses less water. Many detergents struggle to break down and rinse thoroughly in modern machinery and detergent manufacturers are struggling to create formulas that do not leave any residue on the laundry and rinses off properly.
The Simply Pure version is most suited to those who suffer from allergies or have skin conditions such as eczema, it's also ideal for use on baby clothes.
The tabs don't have a fragrance, so if you're all about heavily scented clothing then these probably won't be for you, but I really liked them. Our clothes were washed well and any stains removed without issue and the best part was … my hands had no break outs at all.
The only downside for me is the price. They're a little out of out budget at just under £15 for 24 washes but they're worth it if you suffer badly from sensitive skin. You can pick them up at Sainsbury's and Holland & Barrett's.
*I was sent the products in return for an honest review