Early mornings are usually stressful enough without the added hassle of a child who doesn't want to brush their teeth and get ready. Whilst he will brush his teeth, the little man loose interest quickly and it's rare that we actually manage the recommended 2 minutes of brush time.
Aquafresh have released their helpful and innovative Brush time app which aims to help parents avoid battles at brush time and help encourage children to brush their teeth for 2 minutes, twice a day which is recommended by dentists.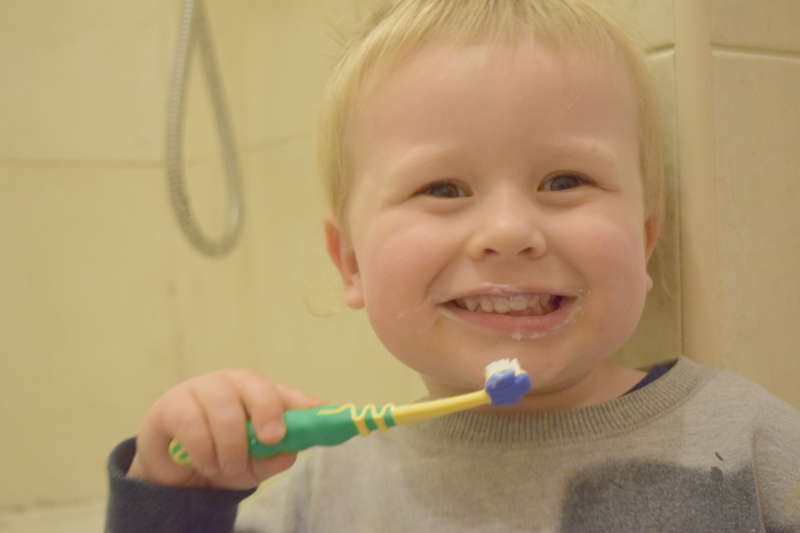 The app lets children customise their brushing routine by choosing from a variety of characters, backgrounds, dances and even their own music. It's designed to make brush time more fun and the longer a child brushes, the more content the app opens up.
Captain Aquafresh and the Nurdles entertain children with their catchy tunes and the brush time tutorial demonstrates the right way for children to brush their teeth. A timer on the app counts down from two minutes (recommended brushing time) and when it's finished, brush time is over. It's a simple process but a very encouraging and interactive one for younger children.
The Aquafresh brush time app can be downloaded for free to either your phone or tablet. Once you've downloaded the app, your child can then choose a character, background and even song to listen to for 2 minutes whilst they have fun brushing their teeth.
We've been using the app at least once a day for a couple of weeks now and it's made teeth brushing time so much easier. The little man will even ask for it on a morning if Mammy is too tired to remember. It seems to set him up for a cheerful start to the day and he will brush his teeth for 2 minutes without any reluctance or issues.
Along with the app, we've been using Aquafresh Milk Teeth toothpaste and tooth brush which has been developed with the help of dental experts. The toothpaste less less abrasive than regular toothpaste but still contains the correct amount of fluoride for babies as well as having a gentle mint 'baby-friendly flavour'. The tooth brush has multi-angels soft bristles and softer bristles so there is less chance of gum damage.
* We were sent toothpaste samples and an Itunes voucher in return for an honest view.