I'm a huge fan of personalised gifts and keepsakes and have bought and made numerous since the little man was born. I love having an excuse to print off and display our photos and memories so I was very excited to hear from the lovely people at Truprint. Truprint are an online printing company who sell a huge range of products including photobooks, traditional photo prints and cards. I've printed off my photos with them a few times and have never been able to fault their service.
Truprint have recently released their beautiful In The Night Garden Range and I knew the little man would be impressed if he was able to see our pictures alongside his favourites, Igglepiggle, Upsy Daisy and Makka Pakka.
The range consists of an In The Night Garden themed canvas, pillow and blanket all of which can be personalised with your own pictures. Prices start at £37.99 for the cushion and go up to £69.99 for the blanket.
Creating your order
The ordering process is quite easy. Firstly, you need to upload your pictures to Truprint. You can upload pictures from your computer, Facebook, Instagram or Flickr but you need to be mindful of the picture resolution quality. I'd personally only use photographs taken with a camera and uploaded from your computer. The quality of pictures from Facebook or Instagram will probably not be good enough to use on products like the blanket or cushion, if Truprint feel the resolution is not good enough, a warning will be displayed whilst you're creating your product.
After you've uploaded your pictures, you'll need to choose 8 to use on the blanket. This is the hard bit! It took me so long to settle on 8 pictures. When you've finally chosen the pictures you want to use you can move them round by dragging and dropping them on the blanket template until you're happy, You can even add text or other embelishments if you wish but I decided to keep it simple so the In The Night Garden theme stood out.
When I was happy with the placement, I clicked review and buy and then started on my cushion.
Thankfully, I only had to choose one picture for the cushion. Again, you add your picture and then drag it into the picture area, adding embellishments if you wish.
For both the blanket and cushion I chose the blue Igglepiggle design but there is also a pink Upsy Daisy design if that suits your needs better.
Delivery didn't take long and I couldn't wait to open up my package from Truprint.
In The Night Garden personalised cushion – £37.99
The cushion is pretty large and bouncy. It measures 18″ x 18″ and is machine washable and is made using a stain resistant allergy friendly material and filling.
The cushion front has a waffle type feel to it and the rear is a soft feel beige material.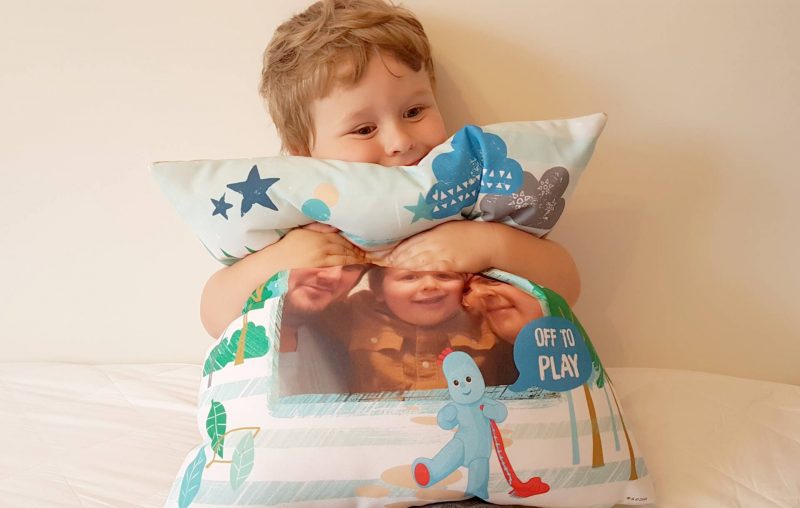 The picture quality is pretty good but it did come out a little darker than the actual picture I used so I'd recommend using light, bright photos to ensure your print quality is at it's best.
In The Night Garden personalised blanket – £69.99
The blanket was my favourite of the two products and we all absolutely love it. It measures 57 x 43 inches and is a super soft thick fleece material. It's a great size and it covers the little mans toddler bed.
The blanket is edge stitched and made using 100% Polyester Fleece. It can be washed at 30 degrees and tumble dried but is not suitable for ironing.
The pictures look fab and the little man was so excited to see us all in print. He's asked for it on his bed most nights since it arrived and loves looking at the pictures and remembering where they were taken and what we were doing.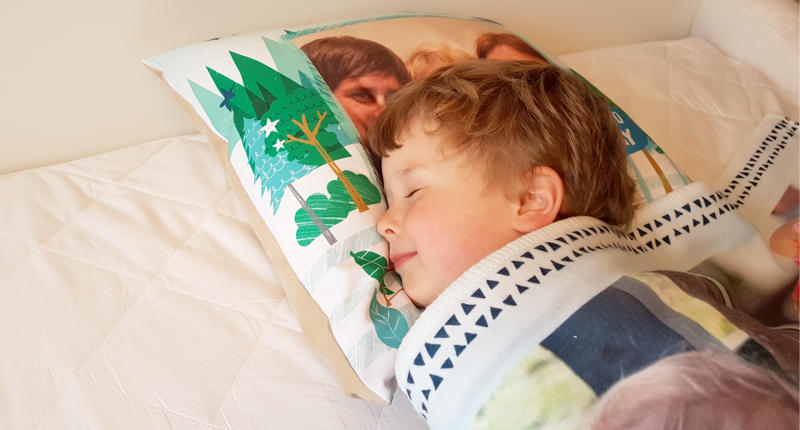 The blanket is very soft and cosy and it's reassuring that you're able to wash it. Having a grubby little boy means things ALWAYS need to be washed.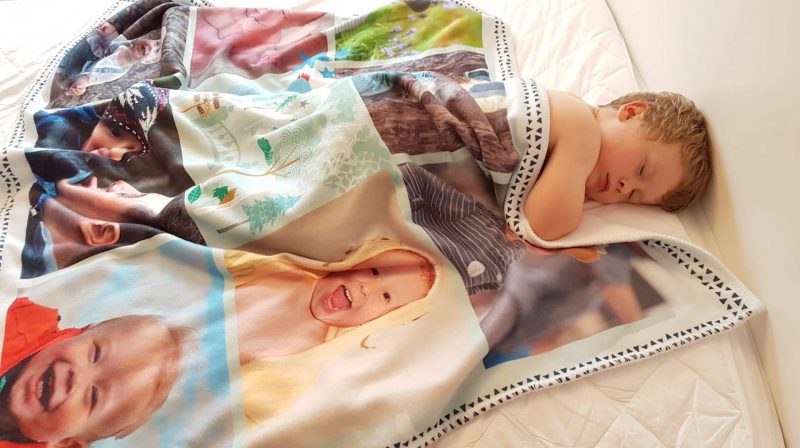 At £69.99 the blanket does in my opinion sound a little pricy. However, every blanket that is sold, Truprint donate 25% to NSPCC.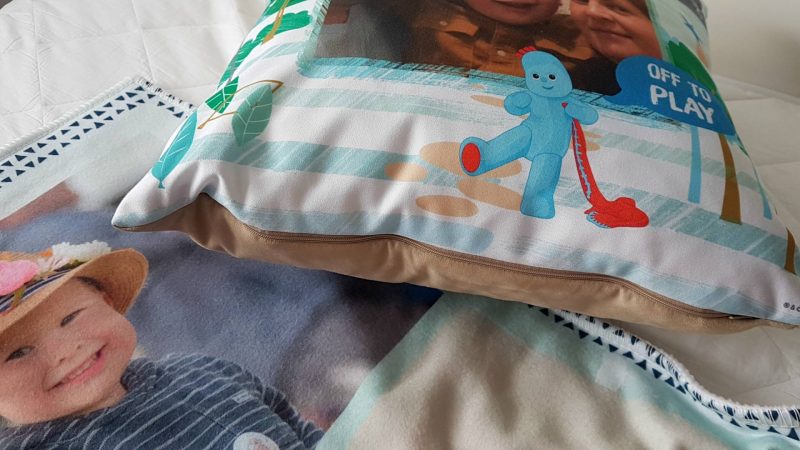 I was really impressed with both of the In The Night Garden products from Truprint. The print quality is great, delivery is quick and I think they go so well together. They'd both make wonderful baby gifts or just a lovely way of creating a keepsake for your photographs.
* We were sent the products in return for an honest review.