We've had quite a busy half term and managed to cram in a few visits to some of our favourite North East haunts. We were kindly invited along to see the new Elmer and Friends: The Colourful World of David McKee exhibition at Seven Stories in Newcastle.
The exhibition is celebrating 30 years of Elmer the Patchwork Elephant and David McKee's iconic, colourful artwork.
Elmer is one of the most widely read children's book of all time and has sold over eight million copies across the world since it was first published in 1989.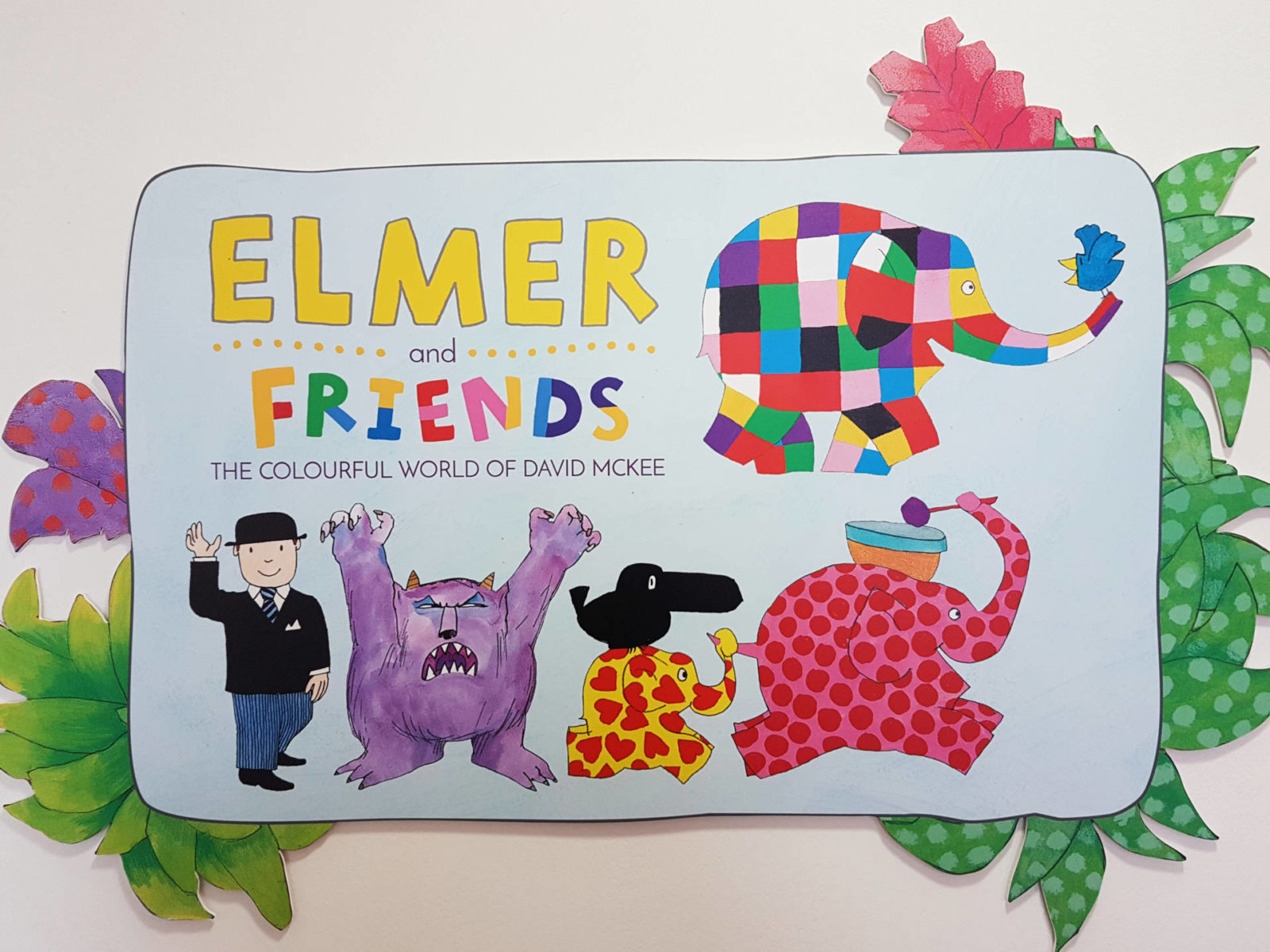 Elmer was written and illustrated by children's author and artist David McKee and the books have been translated into more than 50 languages across the world.
Elmer's appeal has proven to be timeless and I remember it from my own school days in the early 90's. The story of Elmer is about a patchwork elephant who tries to change his appearance in order to 'blend in' with the other elephants. However, they no longer recognise him, or accept him which makes Elmer sad, and he experiences how it feels to be treated like an outcast, after being ostracised by his old friends. It's only when it begins to rain, and the grey paint that Elmer has covered himself with starts to disappear, that Elmer's 'true colours' are revealed, much to the surprise and delight of his friends, who preferred his multicoloured and fun-loving self.
The little man was happy to see another of David McKee's popular stories, Not Now, Bernard showcased in the exhibition.
There were a range of dressing up clothes dotted around the exhibition on level 5. The little man enjoyed trying them on and prancing around, particularly the patchwork elephant head.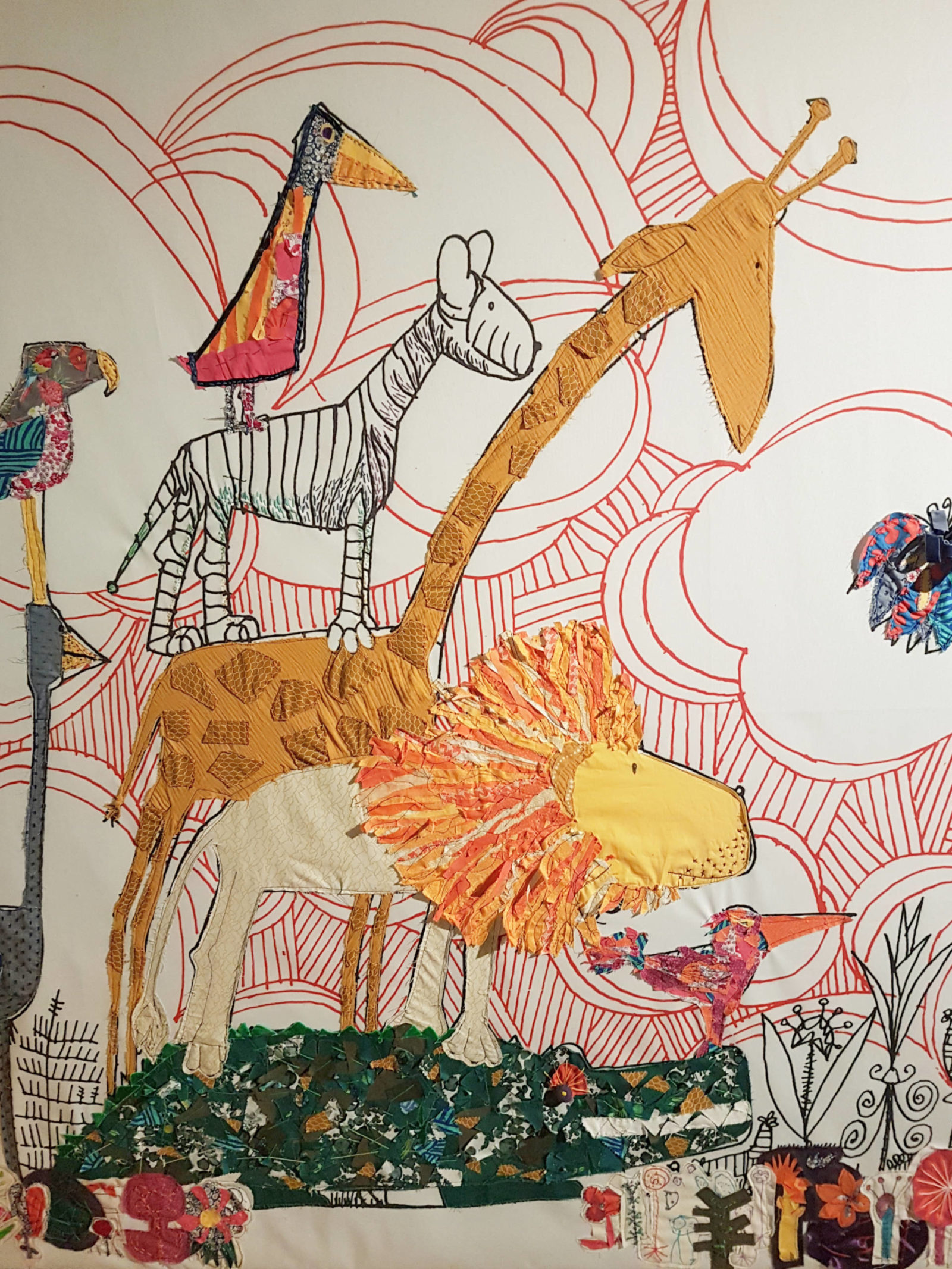 We also found some Elmer books we hadn't read before, so spent some time cuddled up in the comfy seats reading together.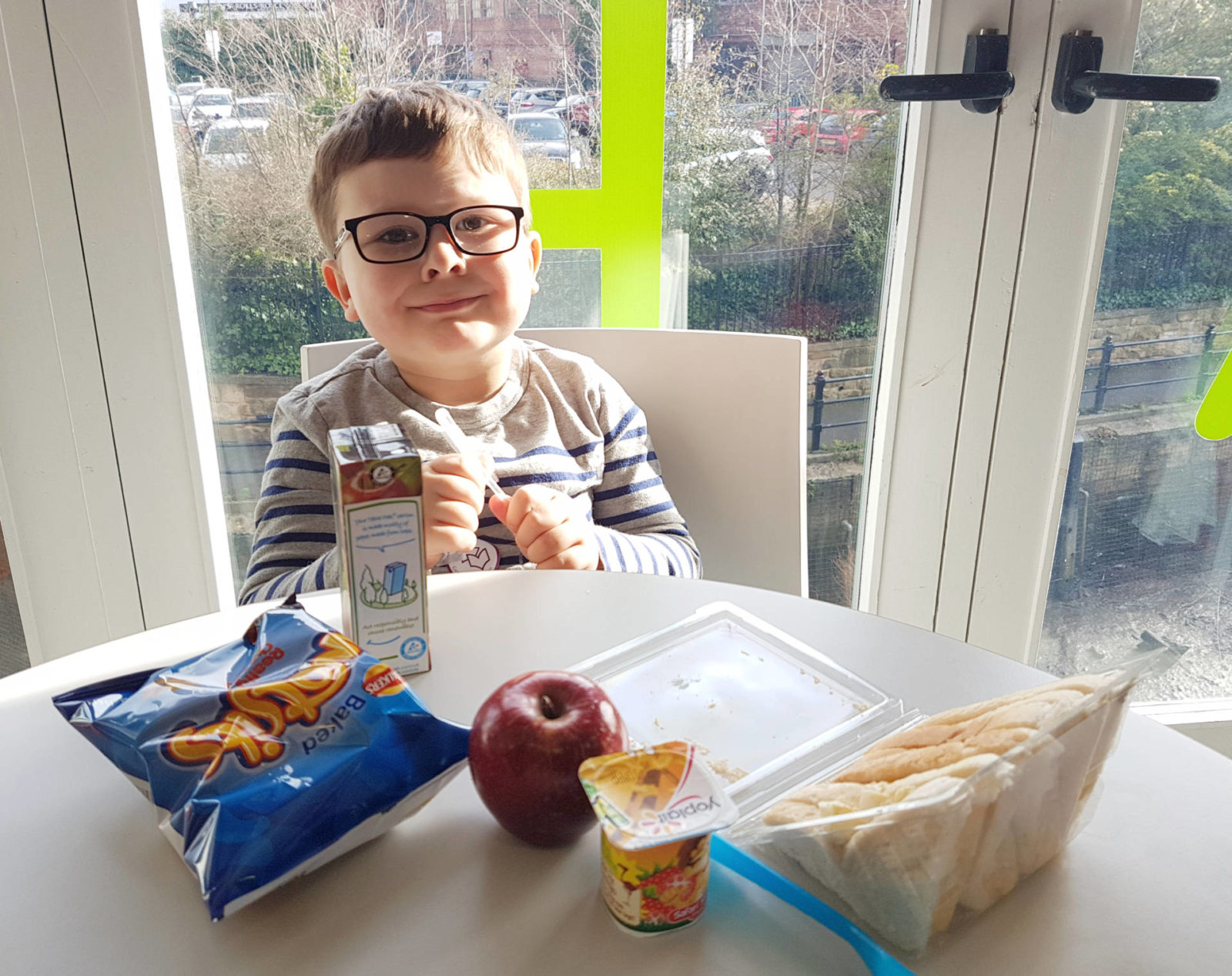 After an hour or two exploring the building we stopped for lunch. There was a bit of a queue when we first arrived at the cafe but we were seated quite quickly and staff kept us updated and cleaned the table before we sat down.
We ordered easily at the counter and our food was brought out really quickly despite the fact the staff were clearly very busy.
The little man chose a children's picnic box with egg sandwiches and we opted for grown up paninis which were delicuous. I had the mozzarella, tomato and pesto and it was hot, perfectly melted and just what I needed!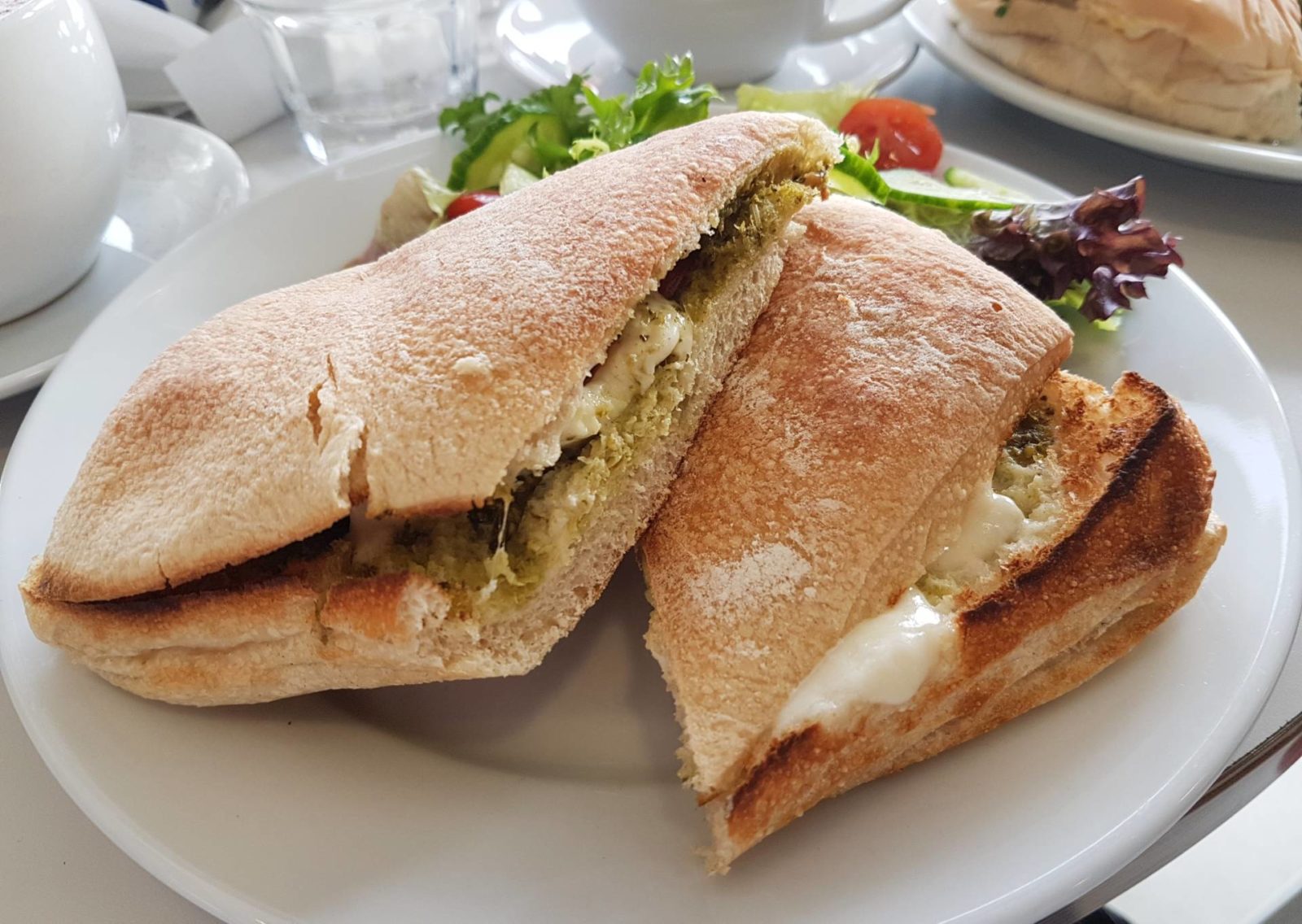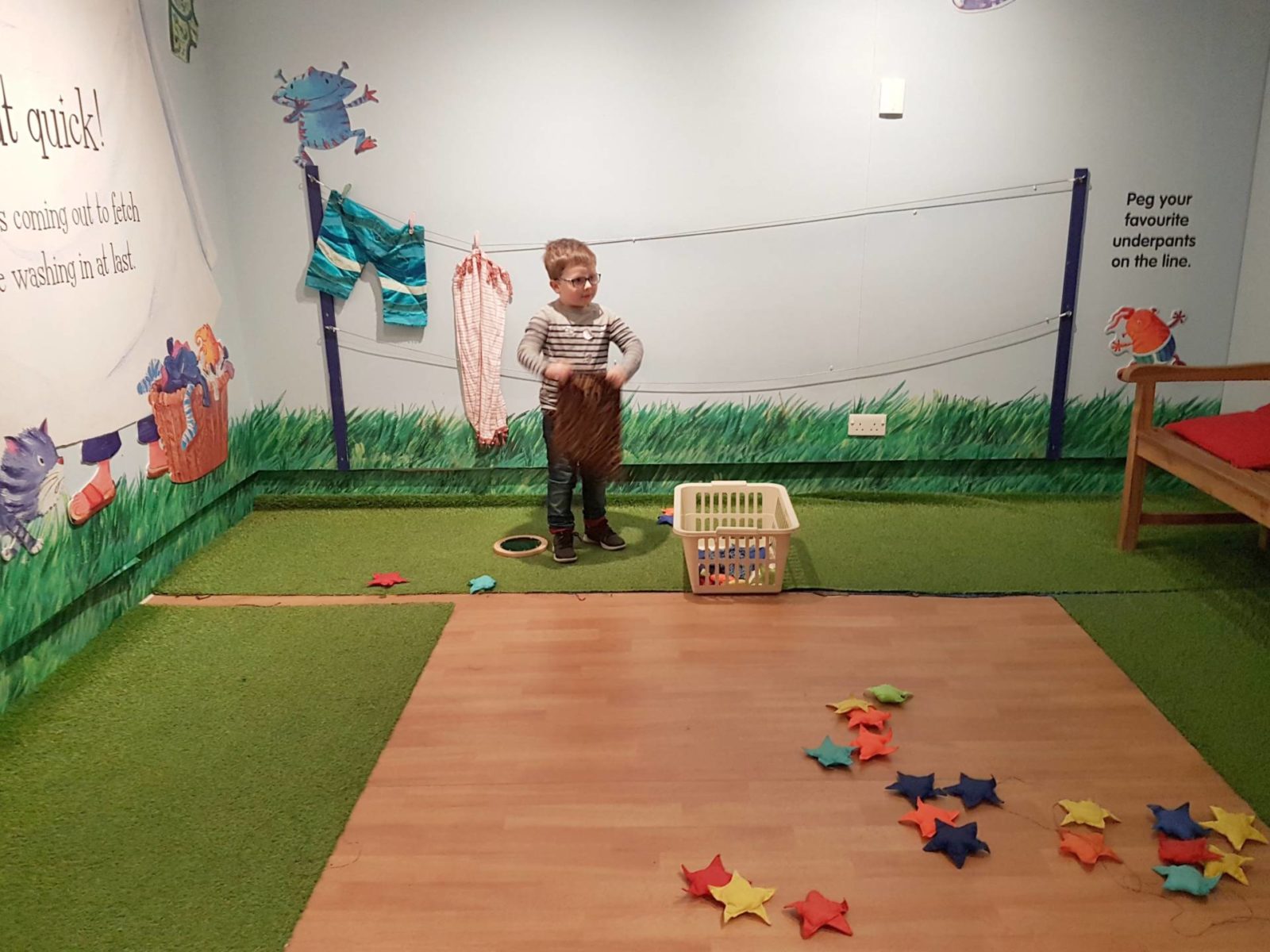 After our pitstop we headed up to Aliens Love Underpants sensory room which celebrates 10 years of Claire Freedman and Ben Cort's bestselling book.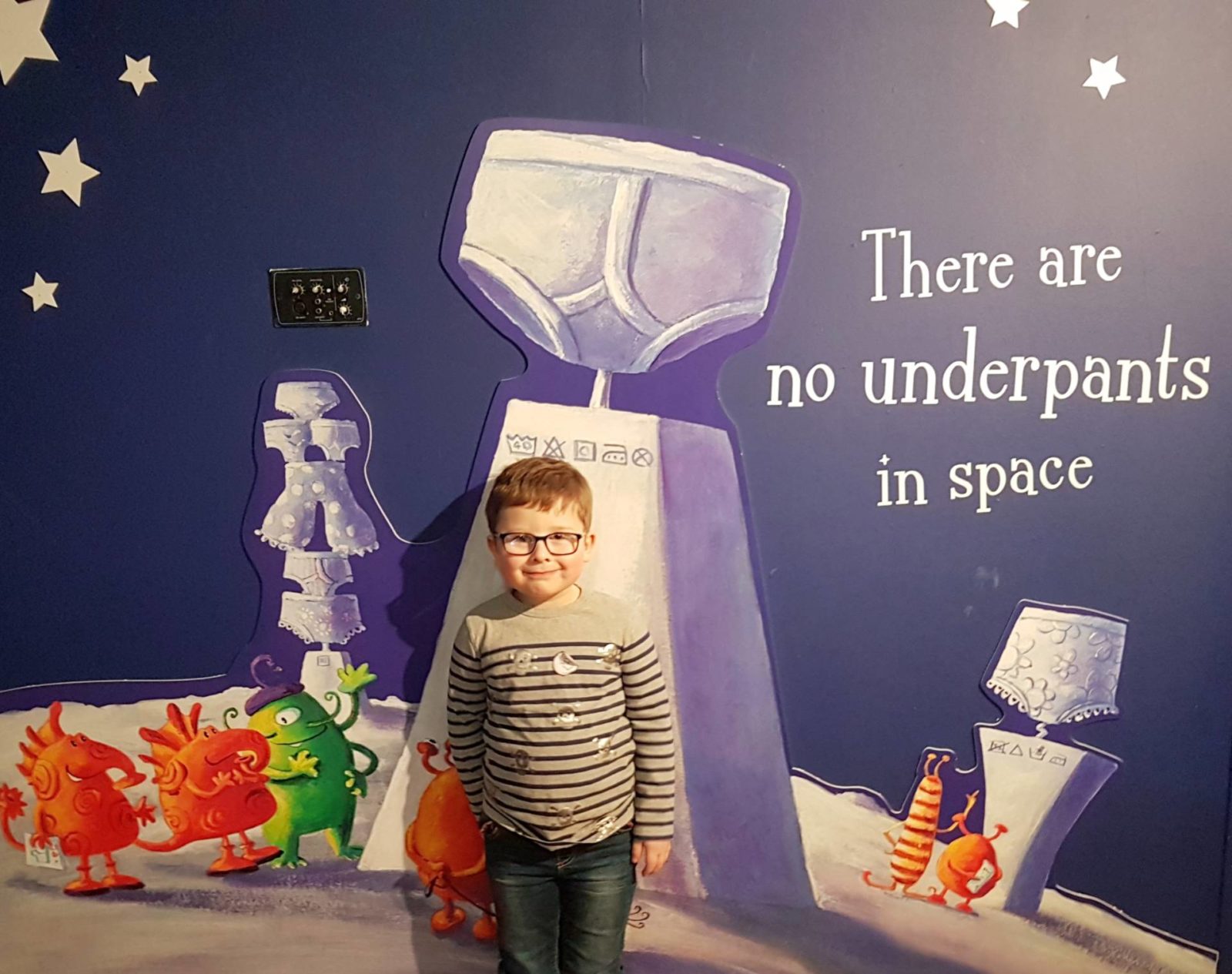 The little man loves this part of Seven Stories, especially hanging up the washing!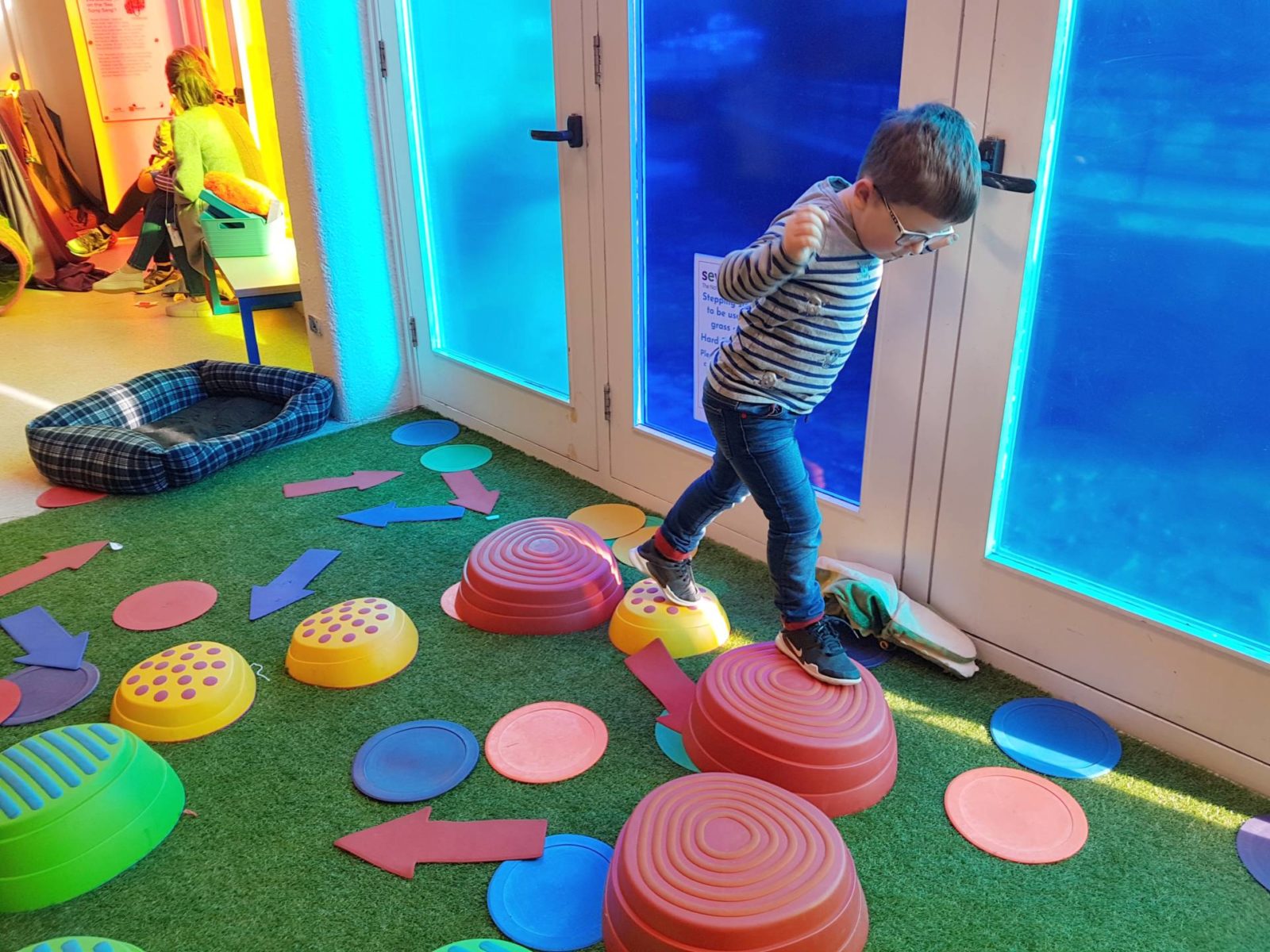 I think the little mans favourite part of the day was the studio at the bottom of the building. Awash with bright colours and a pretty cool den, the studio was a great place to spend some time and is temporarily named 'Elmer's Rainbow Playscape'.
It was much calmer than the rest of the building and lots of fun. The little man enjoyed the brightly coloured steppy stones and playing in the tunnel.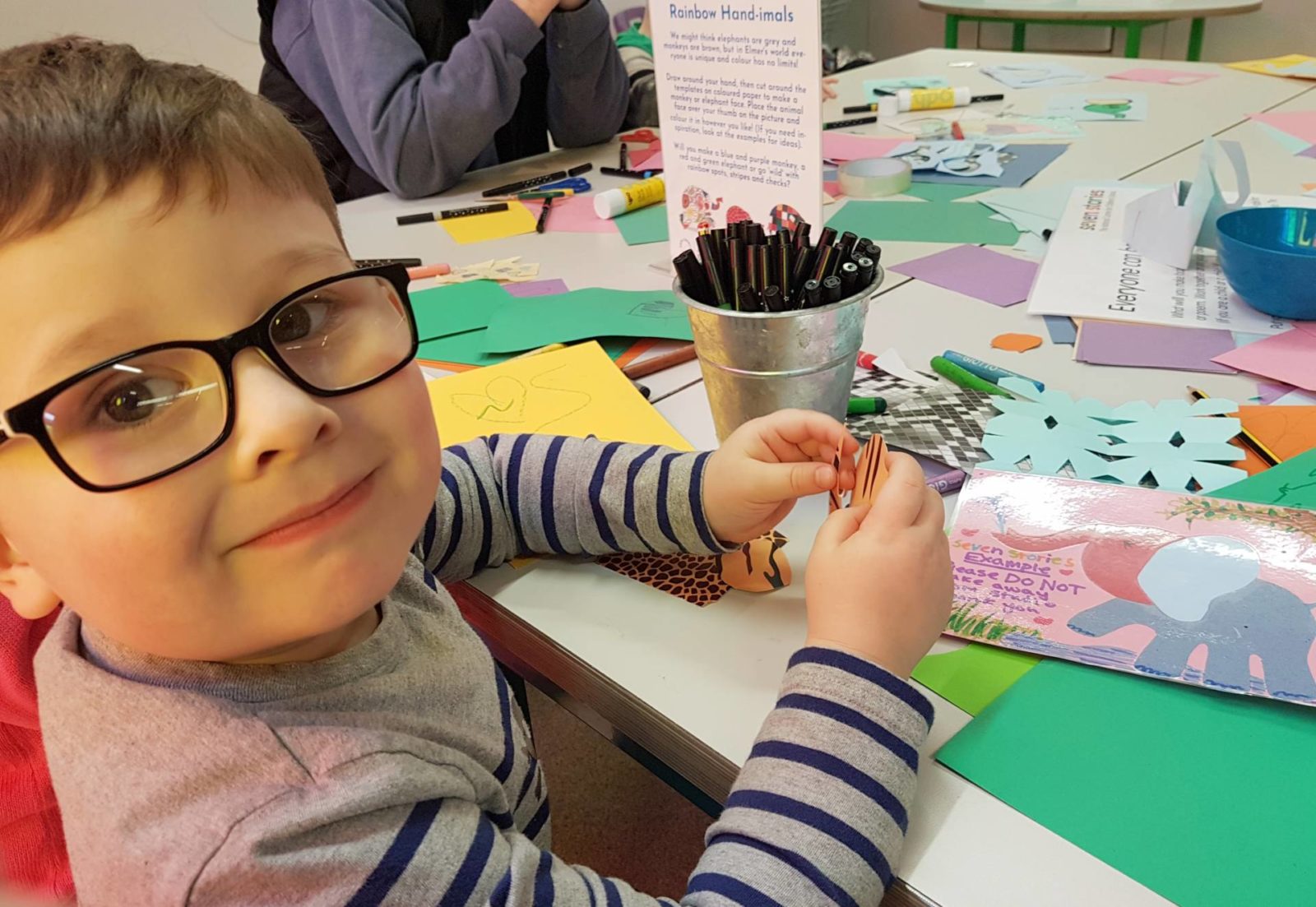 We enjoyed sitting down and making crafts and there were plenty of supplies for us all. We created a multi-coloured elephant card which now has pride of place on the fridge.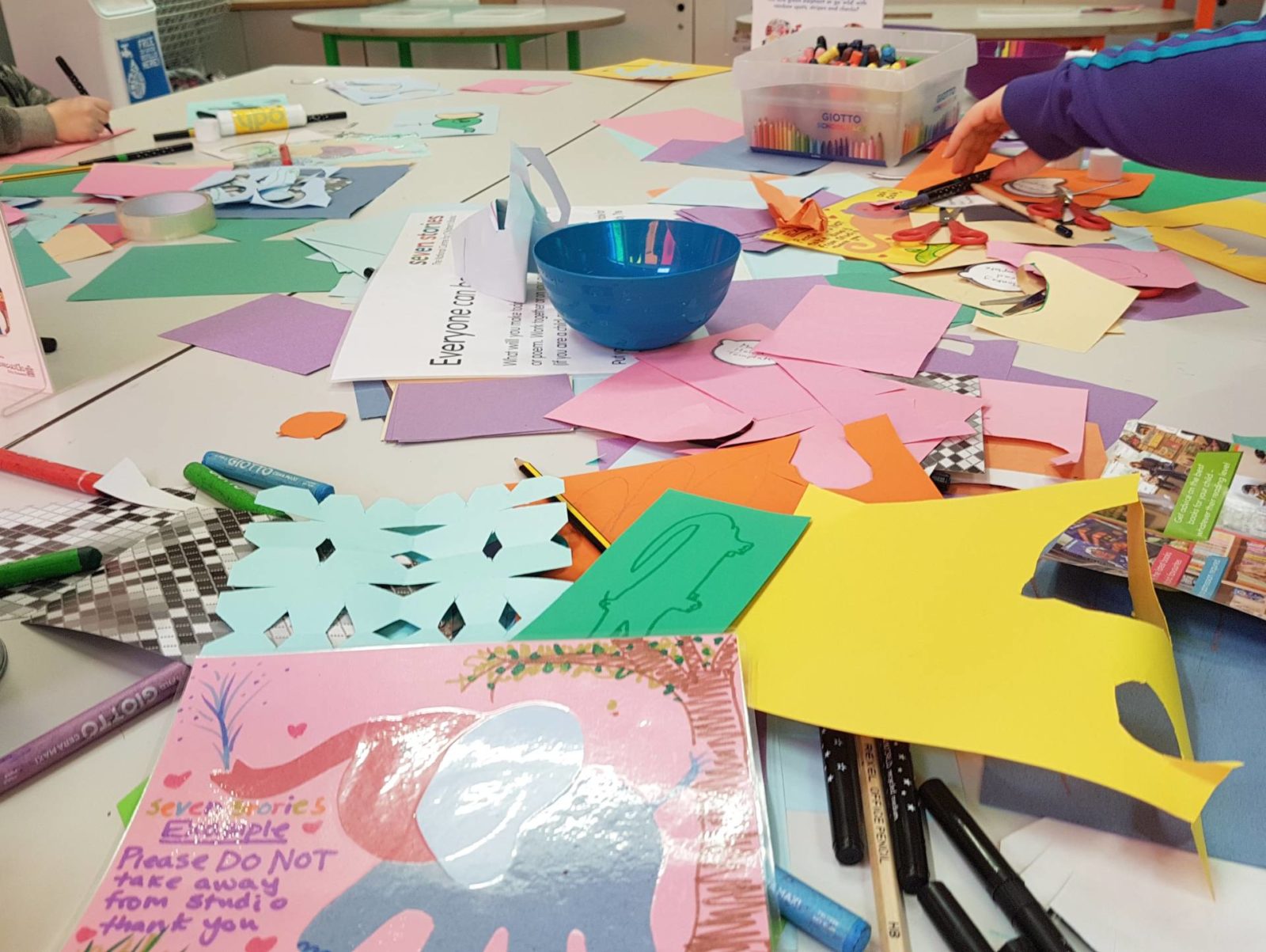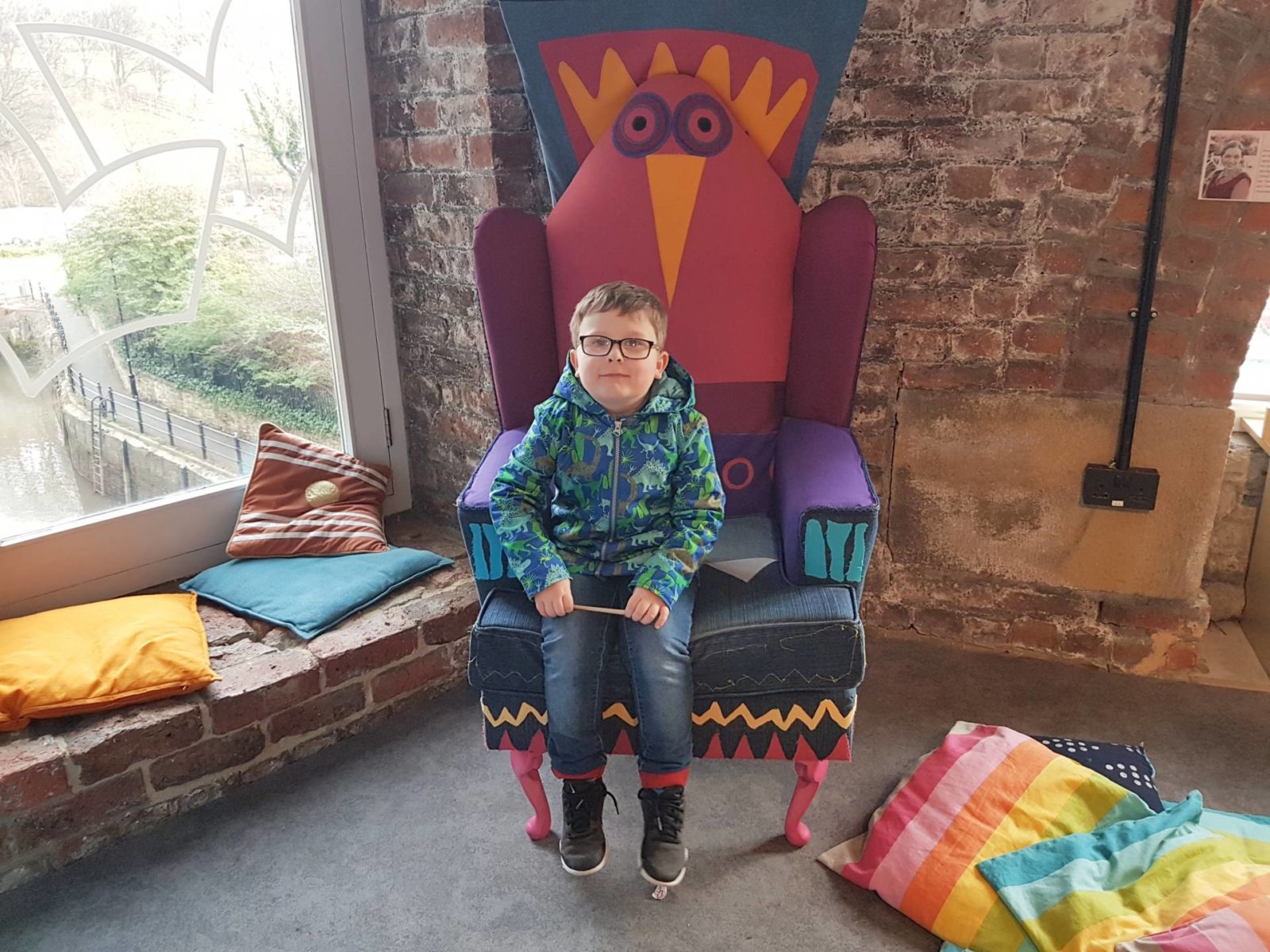 Twice a day during half term Elmer's Pounce & Bounce Gallery Games is held on level 5. Sadly, it was just a little too busy during our visit for the morning session so we spent time in the rest of the building insteads.
We had a lovely visit to Seven Stories, as always. Every member of staff we spoke too was helpful and friendly and it really helps make te whole experience great.
We loved seeing the Elmer exhibition and we're hoping to return on a slightly quieter day to experience the events on during the day.
Coinciding with the exhibition, Elmer's Big Art Parade will also be taking place across Newcastle from August 2019. This stunning art trail made up of individually designed sculptures based on the much-loved Elmer character, will stomp its way across the region for 10 weeks from August to October 2019. Brought to you by St Oswald's Children's Hospice in partnership with Wild in Art and Andersen Press, the trail will raise awareness and funds for the Children's Hospice.
* Our entry tickets and lunch were complimentary.