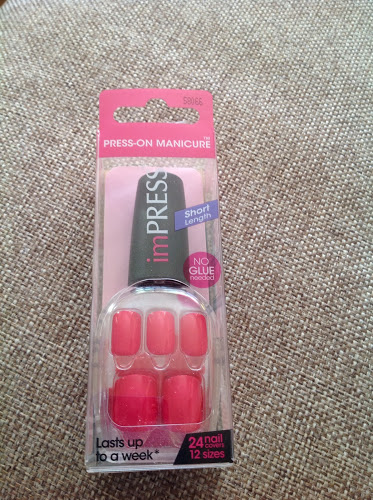 I seem to have very
little time for my beauty regime at the moment, so I jumped at the
chance to try Broadway imPRESS press on manicure.
The sets can be picked up in Superdrug and Boots and prices start at £5.99.
They're extremely simple to apply and look great once they're on. They're perfect for those of us who don't have the time, or the money to go for regular manicures.

I was sent 'Big Flirt' to try, which is a gorgeous glossy, rich cherise pink colour. It's a great shade to go with your LBD.

The nails are simple to apply and you get everything you need in the kit, including 24 different sized nails, a tiny nail file and a preparation wipe for your nails. Everything is neatly packaged into a nail varnish bottle shaped plastic container.
First thing you need to do is pick out ten nails that fit your fingers best and line them up in order.
Wash your hands using soap, and then use the preparation wipe to rub each nail, before drying thoroughly.
Then simply peel off the plastic tab on each nail and firmly press each nail down, then keep your hands out of water for at least 30 minutes.
I love how great the nails look. They're really pretty and feel quite sturdy. The box claims they will last 5 days, but I think you'd have to be very careful for them to last this long. In all honesty, I'd be really happy for them to last during a night out. I'm not the most careful!
I think the press on manicure is a fabulous idea, especially for a quick fix for nights out and Christmas parties. I'm really impressed by how good it looks.
(PR Sample)