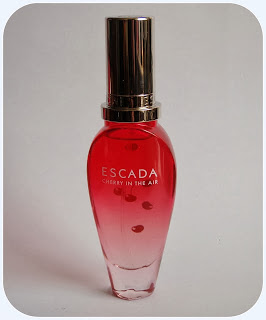 Escada Cherry in the Air is a
limited time perfume that was released in Spring/Summer 2013. I've been meaning
to pick it up for a while, but luckily my hubby had a look through the
Christmas wish list I posted on my blog this year (I MUST remember to do this
next year) and bought it for me.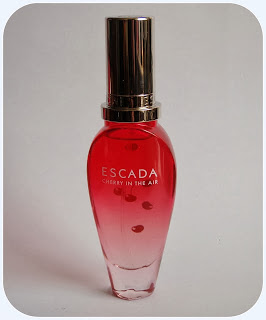 Cherry in the Air scent is gorgeous, light, refreshing, and really girly. It contains notes of juicy red fruits and mellow, creamy notes of marshmallow accord. The obvious scents are of black cherries and raspberries with a warm faint vanilla hint. It is truly delicious and most definitely smells like something you'd want to eat.
I am a fan of Escada fragrances as I find them quite cheap in comparison to some of my other favourites, such as Alien and they remind me of being young. Their scents are usually fruity and lively and a perfect choice for the summer months.
Cherry in the Air looks aesthetically pleasing too. The bottle is simple and girly and looks great on my dressing table, the only gripe I really have is the pointless ribbon ring that comes around the neck of the bottle. Maybe I'm just a little too old at 29 to really 'get' the marketing ploy. Maybe if you're a teenager you'd like the ring and be more likely to wear it, but for me it was a pointless item which was thrown in the bin.
Although its only available for a limited time if can still be picked up from The Fragrance Shop for £24.50 for the 30ml bottle. It is also available in 50ml and 100m bottles. Hubby bought me the 50ml from The Fragrance Shop in our local town.
I would recommend Cherry in the Air to any younger female, or any female who likes light, fruity scents.