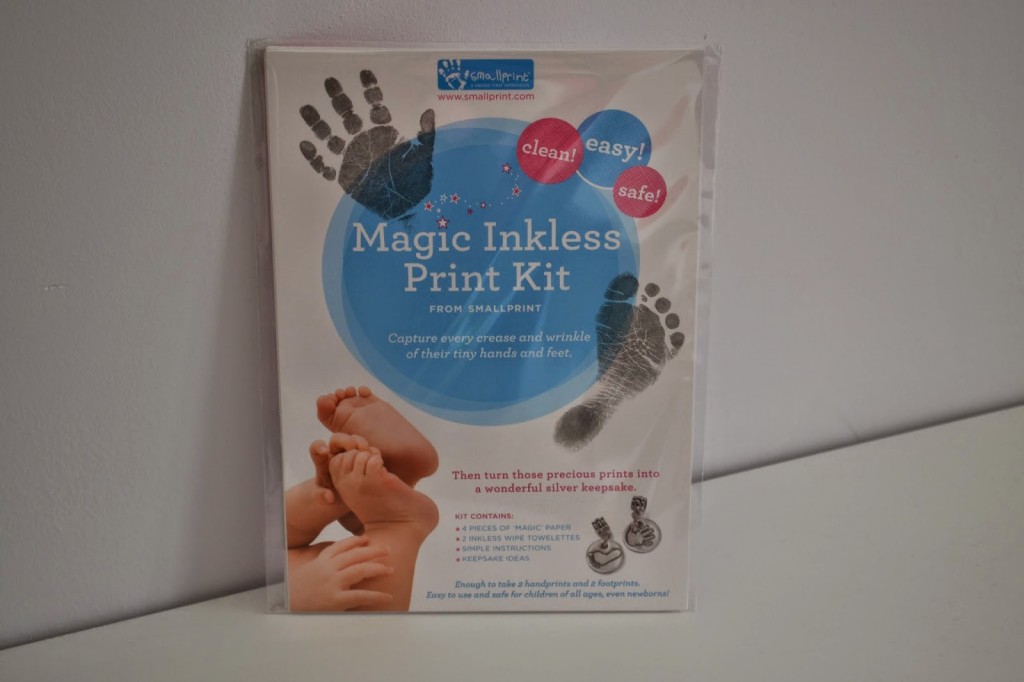 I absolutely adore personalised keepsakes, especially since I had my son, it's nice to collect reminders of the early days while he's small. We've had quite a few bits and pieces made from prints from his hands and feet but nothing quite as exciting as this before.
I was lucky enough to be given the opportunity to try out their service and one of their lovely keepsake ideas.
Smallprint was started back in 2004 by mother-of-two, Maija Pykett. She created her own finger print jewellery and then realised it was a unique and special way to make beautiful keepsakes and shared it with other parents. The company now have a family of jewellers with more than one hundred franchisees spanning 19 countries and four continents.
Once you decide to buy an item from Smallprint you can look on the website to find your closest jeweller who will hand make your item. You can even hold a Smallprint party at your home address for your friends and family.
Smallprint use a clever inkless technology to capture a precious moment in time by taking a hand or foot print from your baby and then lets you turn this print into an item of silver jewellery.
I was sent an inkless print kit in the post to start off the process of making my keepsake. It included a set instructions, 5 sheets of special paper, two inkless wipes and an order form.
The instructions are simple and easy to read, and the best part is that there's no mess, involved. This alone is a fab idea. We've previously (unsuccessfully) tried to get hand and feet prints from the little man, we used blue washable paint and all we managed was a blue smudge on a piece of card, a ruined romper suit and a rather aggressive baby!
This are a much more simple, mess free idea, but I found I still needed assistance. I roped in my Mam to hold the Little Man while I tried to manoeuvre his flailing hands and feet.
In theory it's very simple. You rub the inkless wipe over your babies hands or feet and press down onto the special paper where magically a print will appear. I love the fact there's no messy ink pads or drips of paint, I love it that much I'm going to buy some more of the inkless kits to use within my Project Life baby book, and try and remember to take a hand and foot print from the Little Man each month.
The wipes are also unlikely to cause any irritation or problems with your baby's skin, The Little Mans skin was fine after use, no redness or irritation after a quick wipe with a baby wipe.
Surprisingly I didn't manage to get any photos during this part of the process, but I did manage to get some really clear prints, well other than the two on the right hand size. Hands seemed to be a bit of a no go area, the Little Man refused to flatten his hands hence the rather odd shaped hand prints!
I was really impressed with the inkless prints. They're clear enough to see each and every tiny little toe.
Once you've done your prints you need to choose one to use on your keepsake item. I decided to choose one of the footprints. It was probably the clearest one and I love the Little Man's cute little feet.
Once I'd decided on the print I wanted to use I got it photocopied. You can either send the original or you can use a copy as long as it's clear. I decided to keep the original to add to my scrap book so got the prints photocopied at my local library.
After a lot of deliberation I decided to choose a keepsake item for my hubby. I really wanted to order a pendent for myself but being the lovely, thoughtful and considerate (are you reading this hubby?!) wife that I am I chose the oblong cufflinks.
The order form is really simple but gives you lots of options without being confusing. You can choose your item, the shape and the wording you want to be engraved on it.
I packaged the copy and the completed order form up and posted it back to the Smallprint HQ and waited ……
During the wait time I received a call from a lovely lady from Smallprint who was checking the details of my order and making sure I was happy with the the wording before she created it.
…..Fast forward about 4 weeks and I get a little signed for package from the postman.
Inside were the beautifully crafted cufflinks from Smallprint. They're housed in a pretty black box with a matching gift bag. I love the black and silver combination. It looks elegant and expensive.
I am absolutely delighted with the cufflinks. They look amazing and are such good quality. The footprint looks so clear and exactly like the print.
The cufflinks themselves are well made and are a good size. They're attached firmly on the back to the part that is fastened through your sleeves and look like they're built to last.
I am so impressed by both the quick process and the quality of the product. The cufflinks cost £105 which I think its good value considering how well made they are and how great they look.
I can't wait until Sunday morning and I can give them to my hubby from our Little Man. I'm expecting at least a tear or two! I think they make the perfect Fathers Day gift.
I'll certainly buy a Smallprint Fingerprint Jewellery gift voucher as an alternative to a more traditional baby gift. I've actually been asked to be God Mother for my best friends daughter in September so I think I'm going to buy gift vouchers so she can choose a gift from Smallprint that will last a lifetime.
*I was sent the kit and cufflinks for the purpose of the review – opinions are my own*