My life is an endless fight with the washing basket, having a small baby who likes to get messy doesn't help!
I'm always on the look out for products that might make my life easier. No one wants to spend more time cleaning that absolutely necessary. As well as something that works quickly I try to avoid products that contain harsh chemicals or nasty additives that may cause irritation to the little mans soft baby skin.
I recently asked if I'd like to try out some products from
Mrs Gleam*
, a cleaning range that contains no harsh chemicals, no bleach and is suitable for sensitive skin or skin prone to allergic reactions. They sound like a brilliant idea for both the little mans young skin and my dry, sensitive hands.
Sounds great!
I was sent the
Carpet and Upholstery stain remover
and the
Laundry Spot stain remover.
Both look very similar with only the label differing, which could be problematic in the depths of my cleaning cupboard. They could easily be mistaken for each other. The packing is simple and comes with a spray top bottle. It all looks very pink and feminine with a lady dressed in retro clothing emblazoned across the bottles.
Carpet and Upholstery stain remover – A bleach and peroxide free stain remover which is safe on skin.
Pre little man our cream sofa was fine but since his arrival it's become a bit of a nightmare. It seems to be a magnet for sticky fingers, baby vomit or squashed food stuffs. It seems like a new mark or stain appears daily. The stain remover is simple to use, a short burst of the spray, leave for a few seconds and then blot with a damp sponge. I found this worked easily on chocolate (a stray chocolate button had hidden itself down the side of the seat pads) and a small unidentified greasy stain caused by someones dirty fingers. The stain removers scent reminds me of bubble solution. It's not unpleasant but it's not necessarily something I'd choose as a scent.
The stain remover costs £5.99 to buy which it's too bad considering how long it will last me. I literally used half a spray for each stain on our sofa and didn't find the need to use anymore. This can also be used to remove stains from carpets but as we only have carpet in our spare room and on the stains I haven't had a chance to try it out yet.
I'm happy with the stain remover, it works well and it's reassuring to know I'm not using harsh chemicals near our skins.
Laundry Spot – A bleach and peroxide free laundry aid which is suitable for heavy stains and safe for your skin.
I wanted to love this but sadly it just didn't work for me. In our house baby food stains tend to be the most common and I need a stain remover than will shift them from the little mans clothes.
Despite following the instructions, the food stains from his clothes just didn't shift, though it did remove minor stains from our tea towels.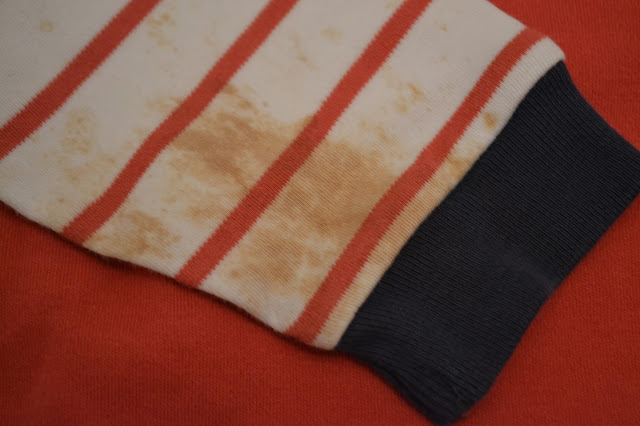 Although the Laundry Spot didn't work for us, I suspect it would work fine if you don't have as harsh stains
I'd still like to try some of the other products in the range, I love the idea that the products are eco friendly and friendly to skin. The air and fabric freshener and the kitchen cleaner both sound good and I'll keep an eye out for them when I'm out shopping.