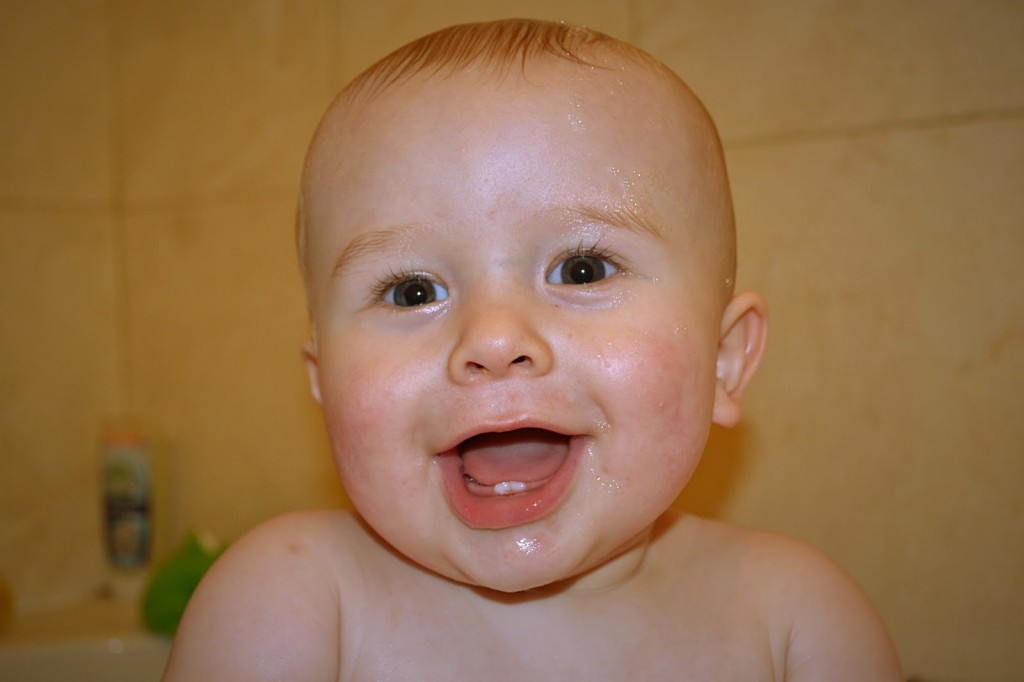 Someone bring back my baby!!
Who stole my baby and left me with an 11 month old!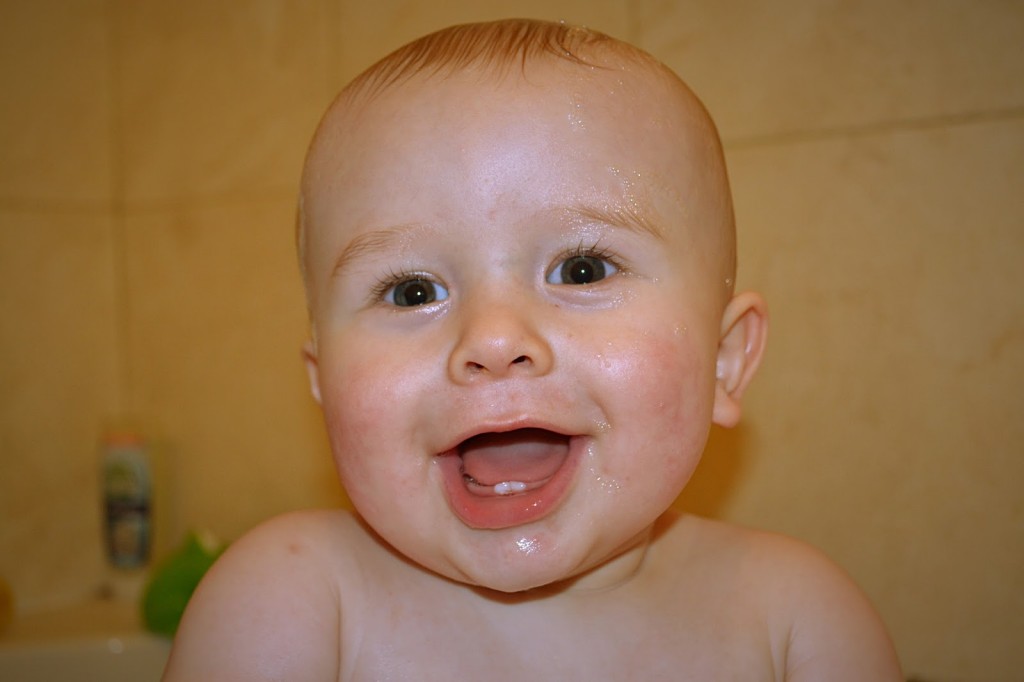 Personality
He's had a rough time of it lately. He's just getting over a severe bout of Gastroenteritis which is now being followed with a cold and nasty cough. He's been really poorly and so out of sorts and has lost so much weight. Hopefully he's on the mend now though and we can get back to normal. It's been traumatic for everyone because I went back to work on the 2nd of January too which was just before his Gastroenteritis started, it's so heart wrenching having to leave a poorly baby at home.
He's still toddling round the furniture and adores his walker and running across the room with it. Our living room looks like a a toy shop after Christmas and he's in his element dragging toys round the room.
He's still as vocal as ever and the word of choice is finally 'Mam Mam'. He will chatter away to himself and has started doing it in his sleep sometimes too.
He's waving properly now, sometimes with both hands at the same time. He also raises his hands above his head when you ask him how big he is.
He picks up new things every day and seems so grown up now. I can't imagine it will be too long before he takes his first steps as he's becoming more confident on his feet and regularly stands still without holding on to anything.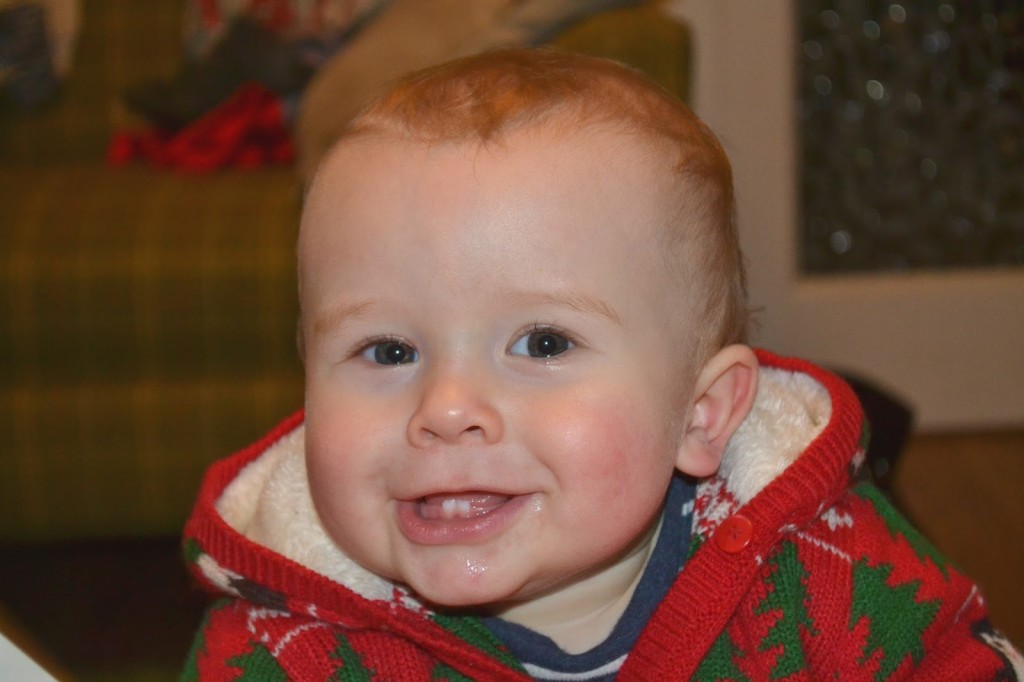 Health
As I mention above his health has been rubbish, what with Gastroenteritis and a horrible cough. Hopefully things are picking up now and he's starting to feel better. We need to fatten him up now to make up for all the weight he's lost weight.
He's got tooth number three through. It's at the top right. I think this one must have hurt a lot on it's way through as he's been pulling at his mouth a lot.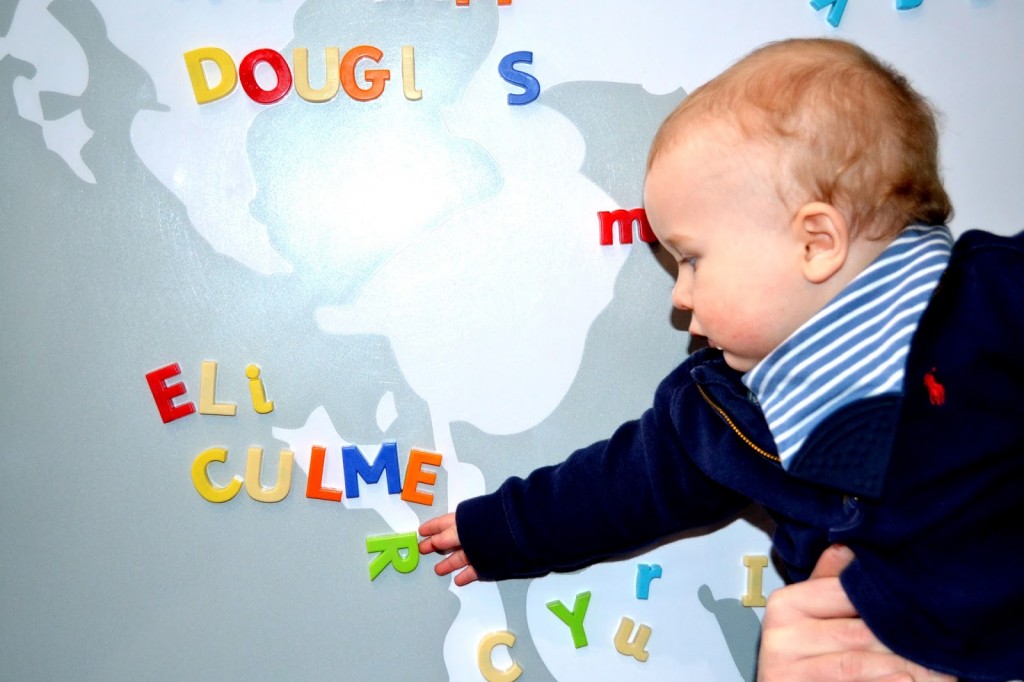 Feeding
As he's been poorly his feeding hasn't been great. His bottles sizes have dropped right down and he hasn't been eating a lot. As with his health it should get back to normal soon. He's pretty good as a rule. He has three meals a day without any fuss, but he can be a bit of a nightmare if there are other people are about. He prefers to watch them to eating.
Sleeping
His sleeping still isn't great. He's been really unsettled while he's been poorly and waking up at least once a night. It's not ideal now I'm back at work and doing 12 hour shifts.
This month we're going to make more of a conscious effort to get a proper sleep routine in place and see if that'll help.
What we've done this month
Obviously we've done Christmas! It was so nice to be able to spend Christmas just the three of us. the little man didn't have a clue what was going on but it was lovely nevertheless.
We tried to cram some days out in before I went back to work. We've visited Beamish quite a few times as it's so close, we went on the Tanfield Express at Christmas where we got to meet another Santa, we've done lots of sale shopping and kitted out the little mans wardrobe for the next size up for clothing as he's nearly ready for that size and we also visited Belsay Hall.
When the update comes next month my little man will be 1 whole year old! The best year of my life and most tiring!