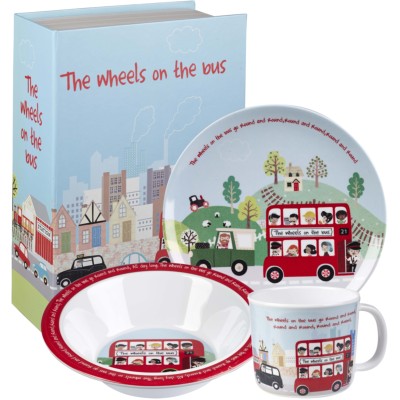 I remember when I was young I had a beautiful Peter Rabbit breakfast set to eat from. I used to 'feed' the rabbits around the bowl during each meal and it really sticks in my memory. I'd like the little man to remember things like that when he grows up so hubby and I try to make his childhood as fun and interesting as possible.
Meal times can sometimes be a chore in our house, it depends on the day of the week to whether the little man will eat his dinner, tip the bowl upside down or completely ignore it's existence. I've found that he'll pay more attention and eat more if he has something to play with or something fun to look at. This Wheels on the bus breakfast set from The Science Museum online shop is exactly the type of thing I mean.
The set consists of a melamine bowl, small plate and mug. It comes neatly packaged in a sturdy box which could quite easily be used as a keepsake box.
Each item features the wheels on the bus nursery rhyme with beautiful eye catching illustrations. The set is so cute and would be perfect for a new baby gift or Christening gift.
The set is durable and washes easily. We've had no colour fading or issues with the pictures coming off. I'm really impressed with the quality.
The set costs £18 which I don't think it too bad considering the quality and pretty designs. It's suitable for both boys and girls. EVERY time we use the tablewear set we have to sing the Wheels on the Bus over and over and over, the little man loves it!
The Science Museum shop also has some of the Wheels on the Bus range available in china which is perfect for older kids.
*We were sent the set for review purposes. Opinions are my own*